Permission required: MARC preferences
You can manage all of your MARC record ordering preferences on the MARC preferences page under the Admin tab.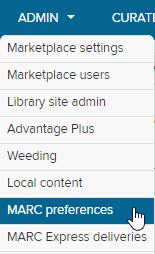 Here you can:
Order MARC records for your Cost Per Circ, Simultaneous Use, Metered Access, and streaming video titles
View and learn more about your options for MARC record providers, including:

eBiblioFile
OCLC
BDS (U.K. libraries only)

Request sample files for the different MARC providers
Note: If your library has purchased Advantage titles, OverDrive will only order MARC records for unique Advantage titles that aren't part of the shared collection. Purchases of additional copies will not result in duplicate MARC record orders.
If you order MARC Express records, you can retrieve them from the MARC Express deliveries page.