Permission required: Curate
To edit a draft curated collection, select the Curate tab in Marketplace, then select a collection under "Draft standard collections" to open its details page.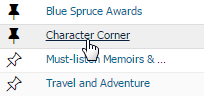 From there, you can edit the collection name, description, translations (if applicable), display options, and publishing location for that collection. You can also delete titles from the collection.
Select Save draft to save your changes before leaving the page.

To add titles to your draft collection, first make sure that the collection is pinned. Then, search for titles and add them to your collection.
You can take a break from adding titles to your draft at any time, and titles you've added to the collection will be automatically saved.